06.06.2023
OeEB invests on behalf of the Federal Ministry of Finance (BMF) in economically sustainable and developmentally reasonable private sector projects in developing and emerging countries. The annual OeEB Impact Report discloses the development effects achieved by OeEB's investments as well as their contribution to the Sustainable Development Goals (SDGs). In addition to loans and equity investments, OeEB also offers accompanying technical assistance measures.
"In our strategy, we focus on loans and investments in the areas of renewable energy, infrastructure, financial inclusion and the promotion of micro, small and medium-sized enterprises. The two cross-cutting issues of climate protection and gender equality are given special consideration. As our current Impact Report shows, we were able to make a significant contribution in all these areas. Our total portfolio has reached a new high of EUR 1.62 billion as of the end of 2022," explained OeEB Executive Board members Sabine Gaber and Michael Wancata.
Fight against climate change
In particular, the commitment to combating the climate crisis was further expanded. Sabine Gaber: "More than EUR 660 million is currently invested in climate-relevant projects which accounts for 41 % of our total portfolio. By the end of 2022, around 3.8 million tonnes of CO2 emissions could be saved. More than 580,000 people gained access to clean energy and around 7,400 gigawatt-hours of electricity were produced from renewable energy sources." In Serbia, for example, OeEB provided EUR 26.6 million for the construction of the Krivaca wind farm. Once completed, the 103.3 MW wind farm will generate 310 GWh of electricity per year for 75,000 households. In total, more than 4,000 MW of electricity generation capacities from renewable energy sources were created in projects financed by OeEB.
Strengthening the local economy
Micro, small and medium-sized enterprises are the backbone of the economy in many developing and emerging countries, but 70 % have no access to credit. "By providing financing to local banks or funds, we contribute to closing this gap, thus enabling economic growth and job creation. In 2022, around 291,000 micro, small and medium-sized enterprises received access to loans," Michael Wancata emphasises. More than 353,000 people were employed in the projects and companies supported by OeEB with financing. Through the African-Austrian SME Investment Facility (AAIF+), which OeEB implements on behalf of the BMF, OeEB provided financing for Biotan Austria GmbH. Biotan processes organic cashews from more than 1,000 smallholder farmers in Tanzania and employs around 300 people. By building a new factory, annual production is to be increased from 1,600 tonnes to 5,000 tonnes in the coming years.
Mobilising the private sector and promoting gender equality
Currently, the effects of the war in Ukraine and high inflation are severely limiting the financial scope of developing and emerging countries. Mobilising funds from the private sector is therefore more important than ever. Around EUR 75 million could be mobilised in 2022. Another essential pillar for sustainable development and poverty reduction is gender equality. The issue of gender equality is therefore firmly anchored in OeEB's corporate strategy and is given special consideration in all investments. At the end of the year, EUR 127 million of OeEB's portfolio contributed to the economic empowerment of women.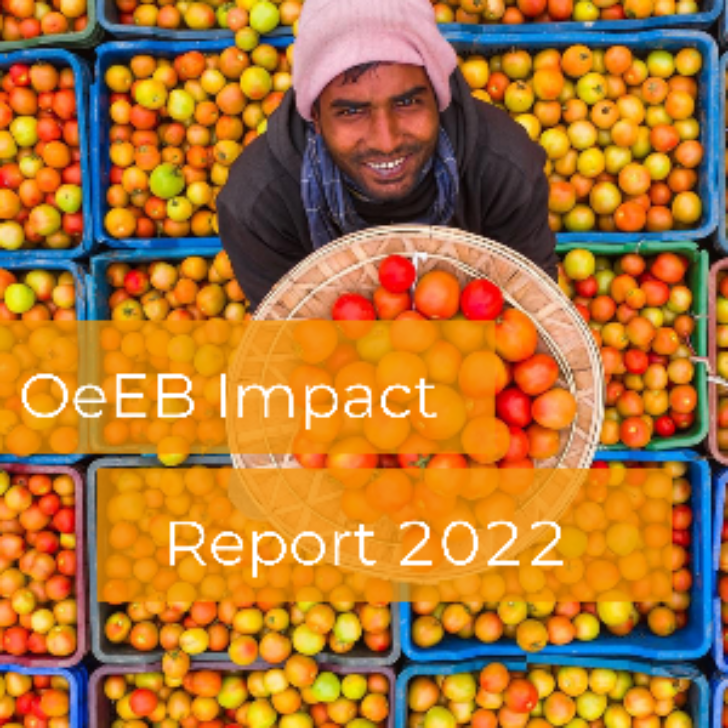 Learn more about the development effects of OeEB's portfolio as of year-end 2022 in the OeEB Impact Report 2022.
Moreover, you can find the most important contents and figures of our Impact Report in a short summary in PDF format.